About EPI-CAL
Learn more about EPI-CAL and its mission
Based on an average incidence of psychotic illness of 272 per 100,000 people each year, approximately 107,000 California residents are estimated to experience a first psychotic episode each year. California currently has 30 active programs providing Early Psychosis (EP) services across 26 counties. However, these programs are not identical. They offer different services, follow different treatment models, and measure treatment impact differently.

EPI-CAL aims to improve the quality of services and measure the impact of treatment. To do this, we have created a learning health care network (LHCN) of California EP programs. The goal of this network is to standardize practice and support knowledge-sharing. To make evaluation of these different EP programs possible, network members have agreed to gather the same information across the same timeframe. Clients, families, and providers will provide information by answering surveys at regular intervals throughout treatment. Surveys will be offered in 13 different languages to meet the needs the diverse communities represented in the LHCN. Surveys will ask about how clients are doing at work or school, how their social life is, and how they feel about their future.
The technology used by the LHCN will bring the information provided by clients and families back into their care. The providers will have access to their clients' data to use as part of their regular appointments with clients and families. This may empower clients to use their own data in care decisions.

EPI-CAL will also allow programs to learn from their own data and from each other. Program management will have access to all of the survey data from their program. They can compare their whole clinic to the network as a whole. They can use this group data to evaluate the impact of program services and look for areas of strength or for improvement.

EPI-CAL started as a collaboration between California counties (Los Angeles, San Diego, Orange, Solano, and Napa) and One Mind to develop a Learning Health Care Network for the EP programs of those counties. A grant from NIH brought the California LHCN into the national network of EP programs, EPINET. This grant also made it possible to add additional county and university EP programs into the LHCN. Being a part of EPINET gives clients and programs the opportunity to contribute to the national conversation on how to inform and improve care for individuals with early psychosis across the US.


EPI-CAL Project Goals
1. Create a network of California early psychosis programs to standardize practice and support knowledge-sharing
2. Standardize core outcomes to enable large scale evaluation of over 1000 EP clients to support measurement-based care through an EP-focused technology platform, enabling participation for consumers and families across 13 languages

a. Collect and visualize client data across a variety of recovery-oriented measures to encourage clients to use own data in care decisions

b. Provide immediate access to relevant outcome data so that program leadership can quickly share information with stakeholders or shift program practice
3. Develop and test a measure of duration of untreated psychosis (DUP) for use in community settings
A Learning Health Care Network for California Mental Health Programs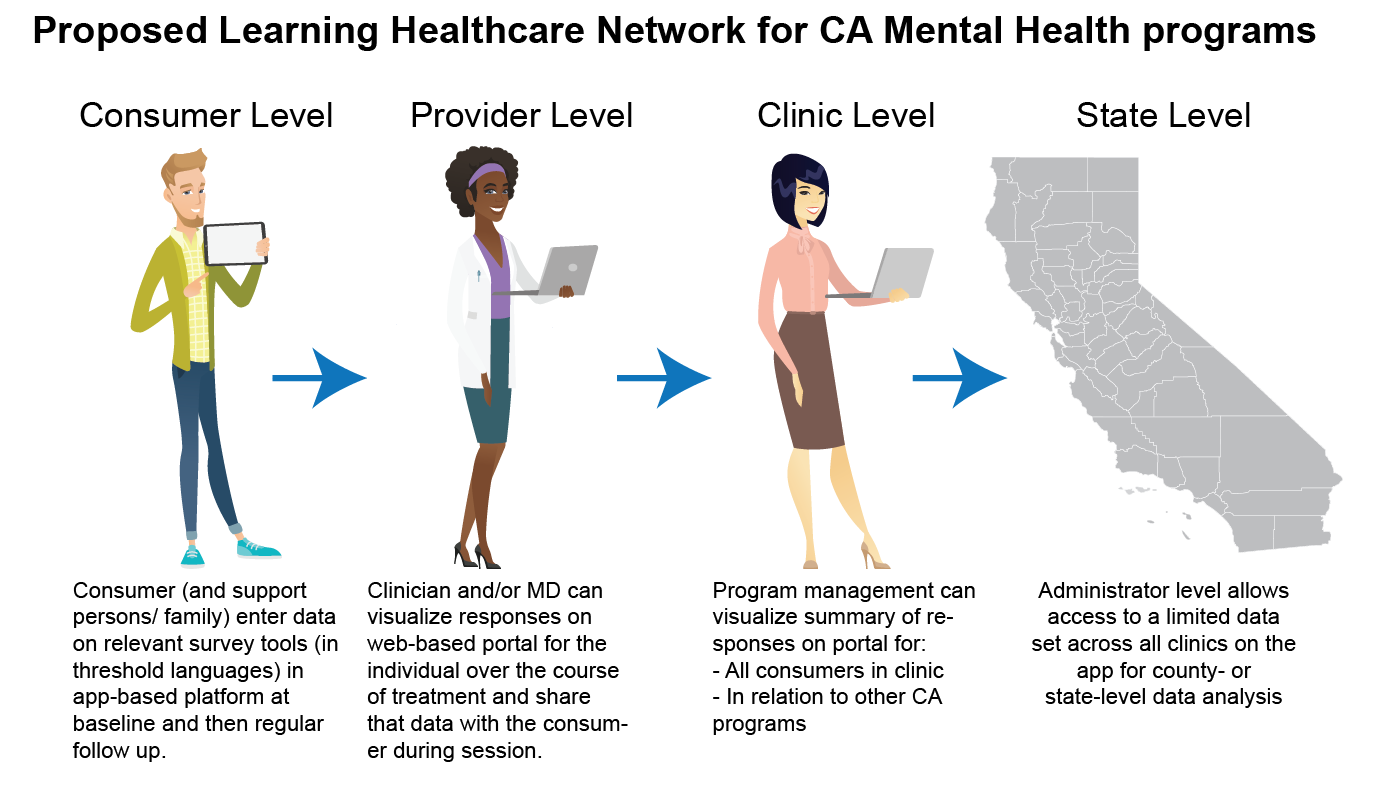 Site List
EPI-NET
UCD SacEDAPT/EDAPT
Stanford INSPIRE Clinic
UCLA Aftercare Clinic
UCLA CAPPS Clinic
UCSF Path Clinic
UCSD CARE Clinic
Learning Health Care Network & EPI-NET
Aldea SOAR (Solano County)
Aldea SOAR (Napa County)
Kickstart
PREP/Felton San Mateo
San Fernando Valley Community Mental Health Center, Inc
Institute for Multicultural Counseling and Education Services (Covina)
Institute for Multicultural Counseling and Education Services (Los Angeles)
The Help Group
The Whole Child
Impact on California
We are developing a sustainable learning health care network for California's EP programs.

In the future, we hope to add additional California counties into the LHCN.

EPI-CAL will gather high-quality data to understand:

What is happening now in EP programs
What is promoting client recovery (and what is not)
The needs and priorities of clients, families, and communities
How data can influence collaborative care decisions in real time

This project has the potential to create a statewide approach to EP care as EP services are expanding across California
Participating clinics will be able to participate and learn from a national network of EP programs and data systems (EPINET)
California has the only statewide initiative examining the clinical high risk ("prodromal" population)
Broader Impact (US & Beyond)
Data from the LHCN will also help us to understand the effectiveness and cost effectiveness of EP care.
The data will also give us the opportunity to examine a broad group of risk factors, such as risk for homelessness.
California is the only statewide initiative examining clinical high risk ("prodromal") population. This is one of our unique contributions to the national network.

Beehive is the data collection and visualization software platform that Learning Health Care Network Early Psychosis (EP) programs will use to incorporate information about a client's recovery and wellness into their mental health care. Beehive both facilitates the collection of this recovery and wellness information and allows program staff and providers real-time access to it, with the ultimate goal of incorporating this information into care. Clients, family members or support persons, and providers complete surveys every six months throughout the client's time in the program.

Data Collection: Clients and their self-identified support persons will complete surveys about their experiences. These surveys will ask about symptoms, treatment, and recovery. Individuals will complete surveys on a tablet at the clinic for in-person visits, or on their computer or smartphone if engaging in telehealth. EP providers will also complete surveys in the web application.

Data Visualization: The web application will provide clinic staff and providers with data visualizations of completed surveys. EP providers are encouraged to share these visualizations with clients during appointments. Incorporating this data into care may facilitate conversations regarding treatment goals, encourage shared decision-making, and enhance clients' involvement in their care. Clinic administration can also use this data to monitor treatment outcomes and consider factors which impact recovery.

Beehive is being developed in collaboration with Quorum Technologies, Inc.